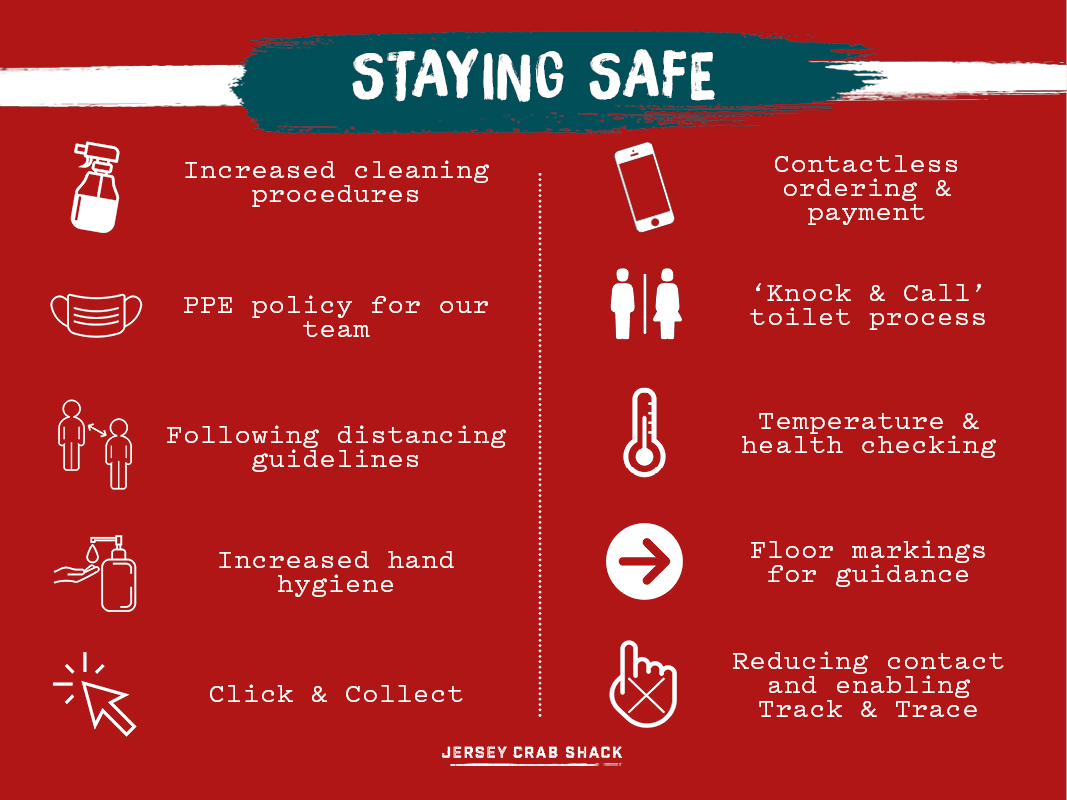 At JPRestaurants, we're committed to keeping customers, employees and islanders as a whole safe, through the use of technology in our restaurants and cafés, creating clean, safe environments to visit and work in, and providing clear training and policies for our employees.
Read on to find out how we're keeping everyone safe. We'll be updating our approach as restrictions ease, so do get in touch with us if you'd like to know more about our safety procedures in advance of your visit.
CLEANING AND SANITIZATION
We've gone beyond our standard cleaning and sanitization routines, and ensure that frequently-touched surfaces and bathrooms are sanitized on a regular basis throughout the day, using anti-viral cleaning products which are safe for a catering environment.
HAND HYGIENE
We have strict hand-washing protocols for staff, and ensure all employees and customers have easy access to hand sanitizer and hand-washing facilities on site, which include separate hand washing areas and changing rooms for staff to use.
FOOD HANDLING PROCESSES
Our normal food handling and internal health and safety processes go a long way to prevent the spread of illnesses, and we've taken these even further since the outbreak of Covid-19. These include specific agreed procedures to investigate any reports of customers falling ill after dining with us and staff training, which includes a requirement to not be in work when ill (or during a period of 48 hours after the symptoms of gastroenteritis have stopped).
We also follow HACCP ("Hazard Analysis and Critical Control Point") procedures to ensure safe food handling. The Government of Jersey Environmental Health has awarded all of our restaurants and cafés a 5* rating, which means all JPRestaurants outlets are excellent performers, fully compliant with the law and adopt best practice with an overall very high standard of food safety management practices.
FACE MASKS
We have our own PPE policy for our team, which is adapted in accordance with Government guidelines and case numbers.
PHYSICAL DISTANCING
We're following Government guidelines regarding distancing and ensuring that our venues are well-ventilated.
Should you wish to have a distanced table, please do let us know when you book. We can't always guarantee a certain type of table, but we'll do our best to accommodate your requirements whenever we can. If you would like to keep your distance, please do also consider dining outside of peak times. We're generally quieter on weekdays, or earlier on during service.
Our staff have received training on how to maintain physical distancing as much as possible, both between themselves and colleagues and themselves and customers, meaning our customers will still receive the same great service without unnecessary proximity.
CONTACTLESS ORDERING
With our web app, you can quickly and easily place your order via smartphone, if you wish. While our teams are on hand to help, this technology lets customers order at their own pace, and reduces the amount of time in close proximity.
CLICK & COLLECT
If you prefer not to be in proximity to other guests, why not order to Click & Collect? We'll have your food ready at your preferred collection time – whether it's fish and chips to enjoy on the beach, or beer and burgers in the back garden.
TRACK & TRACE
We've launched a digital Track & Trace system to help facilitate contact tracing. The system we use makes a record of a guest's visit, which is securely held by our data provider. In the event of a positive case being traced to one of our restaurants, we can use this data to quickly and accurately identify anyone who has been in close proximity with the individual to help Jersey's Contact Tracing team.
TEAM HEALTH
We offer weekly lateral flow tests to all of our team members, so that any asymptomatic cases can be identified.
Any team members who test positive, or who show symptoms, are required to isolate until they receive a negative PCR test result.
If a staff member tests positive, has symptoms, or needs to isolate while waiting for a test result, we provide an isolation pay scheme so that our team don't lose pay while off work.
GOVERNMENT GUIDELINES
We're ensuring that our service meets all Government and Visit Safe guidelines. These guidelines mean that your visit might be a little different to usual, but we'll still do our best to ensure you'll have a great time. Please get in touch before your visit if you would like further information about how the current guidelines may affect you.