KEEPING EVERYONE SAFE
We're really looking forward to seeing you at Jersey Crab Shack. To keep everyone safe, we've introduced some new safety measures, so things might be a little different on your first post-lockdwon visit. Don't worry, though: we've summarised our new safety measures below so that you know what you expect. And if you have any questions, our friendly team will be happy to help when you arrive.
OUR NEW SAFETY MEASURES
We've increased our cleaning procedures, retrained our team, and invested in new technology to help to keep contact to a minimum and to keep us all safe.
Here's a quick roundup of what to expect on your next visit to Jersey Crab Shack.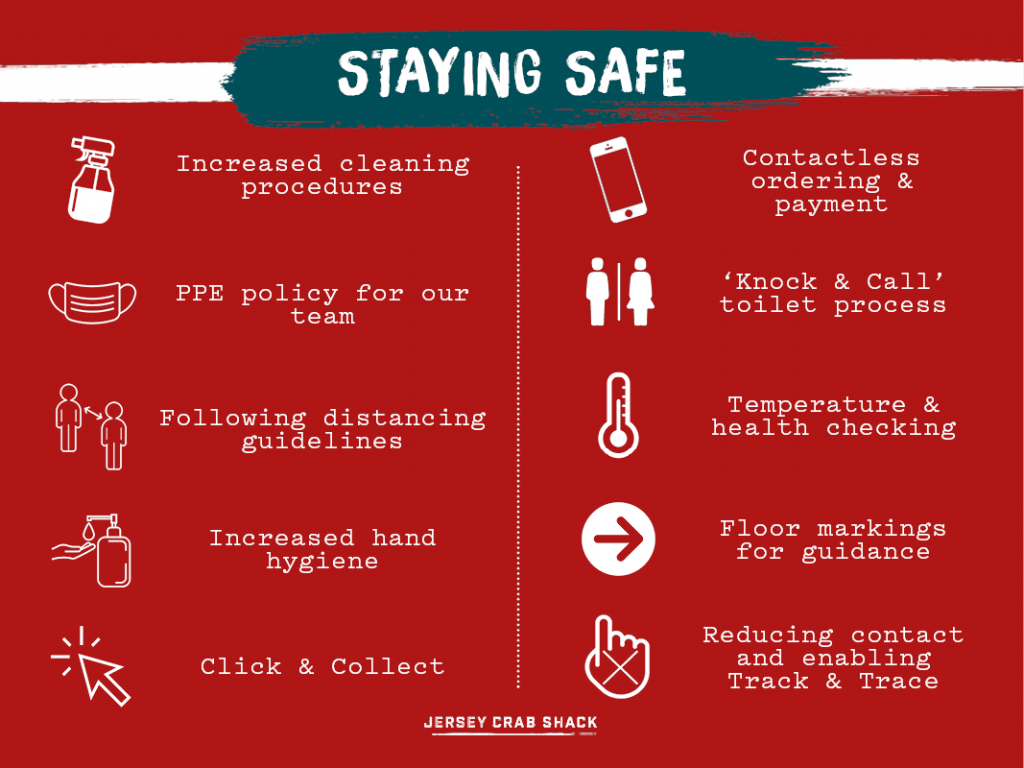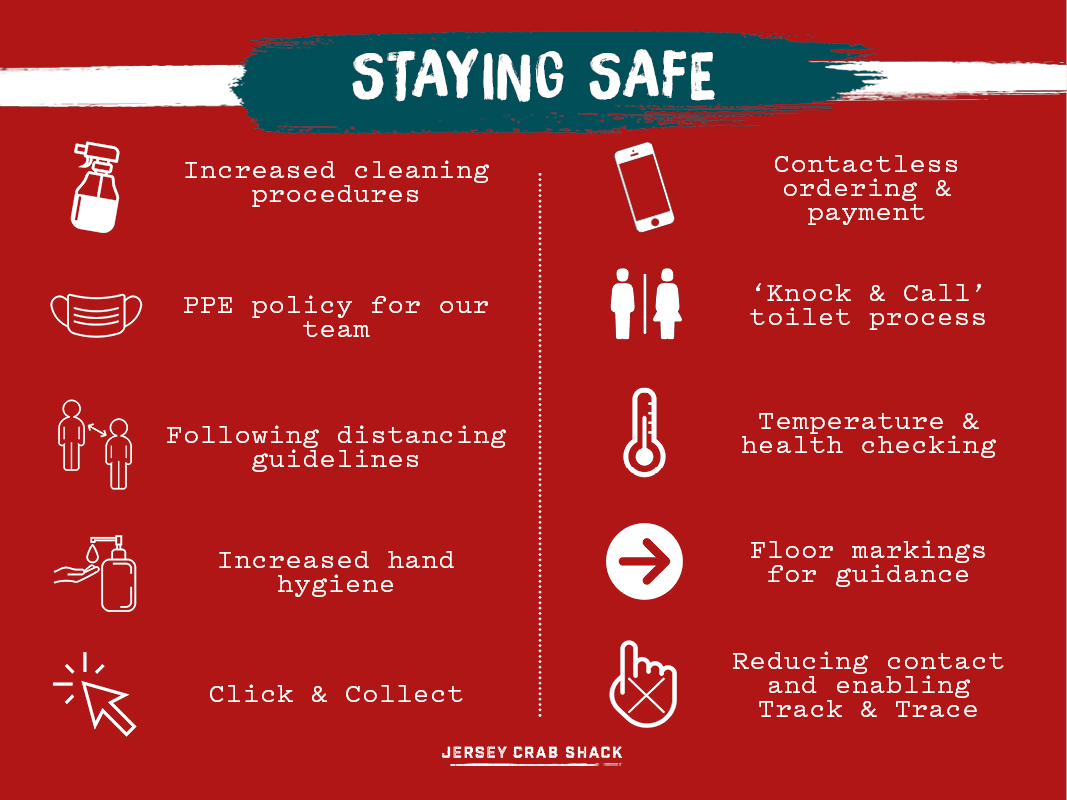 CLEANING
We'll be cleaning our space even more regularly to make sure it stays safe and hygienic.
This includes following Government guidelines, like waiting to allow any droplets to settle before clearing each table.
PPE
We're offering PPE, including face masks, to all our team members.
We have a clear PPE policy for our team, and will adapt this as the situation changes.
DISTANCING
We're making sure that our teams can following distancing guidelines.
This means that we'll have fewer team members in our restaurants and kitchens when you next visit. But don't worry; we have invested in new ordering technology to make sure that you still receive great service when you visit us. We've also restricted the use of a few tables to ensure appropriate physical distancing between tables and when walking around.
HAND HYGIENE
Our teams will be washing their hands and using hand sanitizer regularly.
You can help, too, by using our hand sanitizer on your way into our restaurants.
CLICK & COLLECT
We're introducing Click & Collect, so if you're not yet confident to dine out in a restaurant, you can still enjoy your favourite Jersey Crab Shack dishes.
Simply place your order online, pick up from the bar, then enjoy your food at home, on the beach, or in the park.
CONTACTLESS ORDERING
We've removed our paper menus and have launched a new web app so you can browse our menu and order on your phone.
Don't worry if you don't have a smartphone, though; we'll have an ordering tablet you can use if you've not got a phone or if your battery is flat.
This will be sanitized after each use. And if for accessibility reasons you can't place a contactless order you can place your order at the bar.
Our teams will also be happy to help if you have any questions.
'KNOCK & CALL' TOILETS
To make sure everyone can keep their distance while using the toilet facilities, we're asking guests to knock before going into our restaurant toilets.
If you're washing your hands and you hear a knock, please do respond to advise whether there is space available or not.
HEALTH CHECKS
We'll be remotely checking temperatures via thermal imaging, to make sure that all team members and guests who enter our restaurants aren't showing signs of a fever.
Our teams will be asked to stay home from work if they are feeling unwell. We'd also request that any customers please stay at home if they are feeling under the weather – we love seeing you all, but only when it's safe!
FLOOR MARKINGS
We'll have floor markings at the entrance to the restaurant to help you to keep your distance from other households. Please try to stick to these, and follow the marked flow through the restaurant.
REDUCING CONTACT
We've removed everything from our tables to make sure that every item is sanitized before being given to guests.
We're also reducing contact in other ways, such as installing screens to protect our staff, and encouraging contactless ordering.
Please help us by using our ordering app (if you can), and keeping your distance from our team members.
TRACK & TRACE
We've launched a Track & Trace system to help facilitate contact tracing.
Simply connect scan the QR code or go to trck.to using the location code on the poster as you enter the restaurant, and fill in your name, email address and mobile number.
The system will make a record of your visit, and our secure data provider keep your details securely for 21 days in case there is a need to contact you.
If members of your party do not have a smartphone, you can register additional guests after singing yourself up and when you visit any JPRestaurants location again within 21 days, you can opt to re-register automatically – no need to enter your details again.
Your data will only be stored for Track & Trace purposes, and will be deleted after 21 days.